---
Let Us Make a Great First Impression
---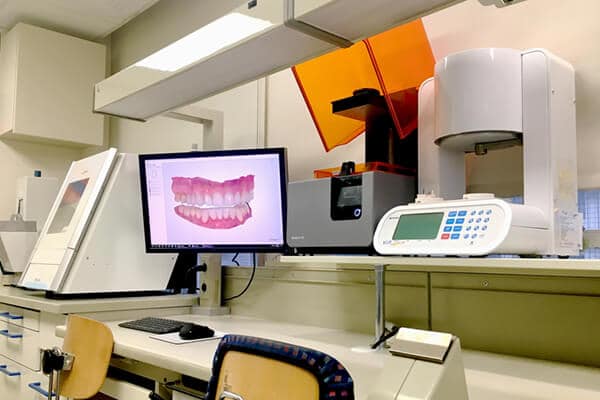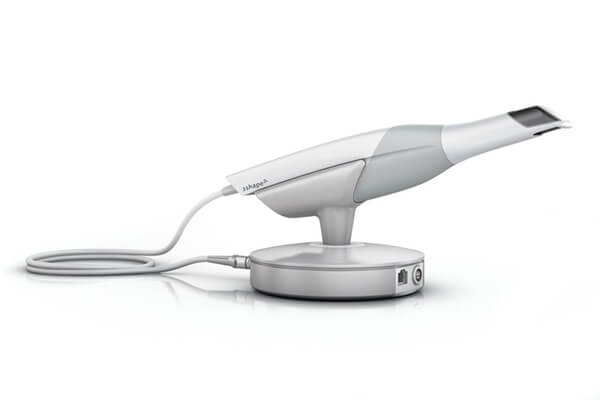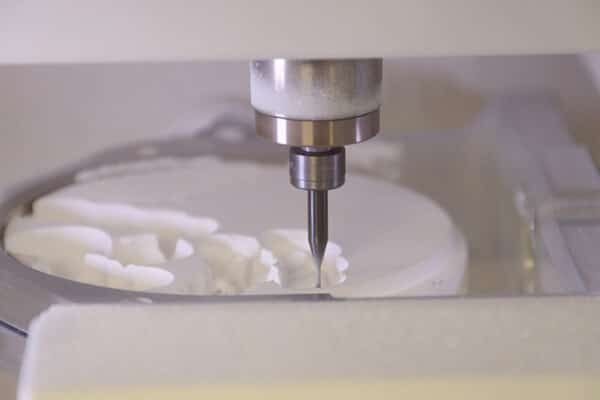 ---
Gdental is now a Digital Dentistry Practice! The introduction of new technology including the intraoral scanner, 3D printer, and milling machine to our office have been a game changer. The 3Shape TRIOS intraoral scanner is a state-of-the-art digital impression system that captures a detailed 3D model of your teeth and gums, and eliminates the need for messy impressions in your mouth.
Once the chairside scan is complete, our onsite laboratory can create a model of your mouth using our Formlabs 3D printer, a finely-calibrated optical system that ensures precise prints by using resins made for specific dental accuracy.
Our Roland milling machine can also design a variety of restorations, both temporary and final, from materials such as ceramics, zirconia, alloys, resins, or wax.
Comfortable
No more mess or gagging associated with impression materials
No unpleasant taste or smell
---
Fast 
Immediately view 3D scans onscreen with our team

Faster completion of your personalized treatment
---
Accurate  
Allows for a precise fit of crowns, bridges, implants, nightguards, bleaching trays,
and retainers
---
Technology
Our office employs many types of new technology that benefit the patient by offering improved diagnosis and care.
Cone Beam Computed Tomography 
Cone Beam Computed Tomography (CBCT) is an X-ray imaging technology that is faster and safer than a conventional CT scan (3D imaging). For our patients, this translates to a significant reduction in radiation dosage and a decrease in the time needed for scanning. The 3D imaging is used for more accurate diagnosis and treatment planning of extractions, particularly of third molars, implant placement, sinus augmentation procedures, TMJ evaluation, and detection of tooth fractures or pathology in the jaw bone.
In addition, the Planmeca ProMax CBCT machine takes extraoral bitewing radiographs, which allow for evaluation of cavities, bone loss, and infections in the posterior teeth. These bitewings are similar to digital x-rays, but do not require placement of a sensor in the patient's mouth. This is ideal for our patients with a strong gag reflex or those who have difficulty with the digital radiograph intraoral sensor.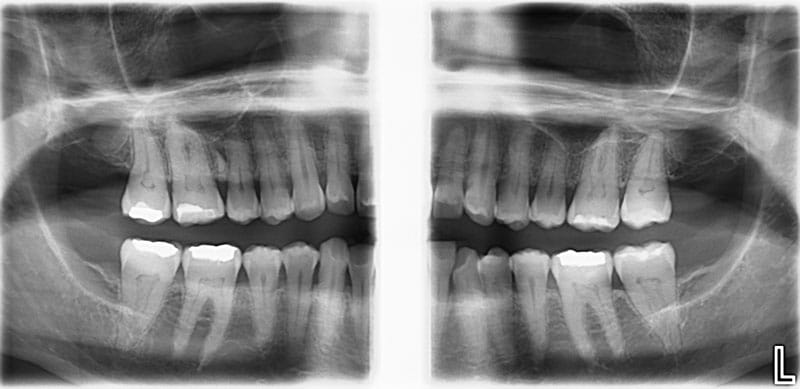 Measuring and annotation tools – such as nerve canal tracing – assist in safe and accurate treatment planning for our patients. As seen in the images below, we can clearly identify the path of the nerve canal in the lower jaw, or visualize the sinus cavity in the upper jaw, prior to any dental procedure. This will increase safety, predictability, and success of treatment.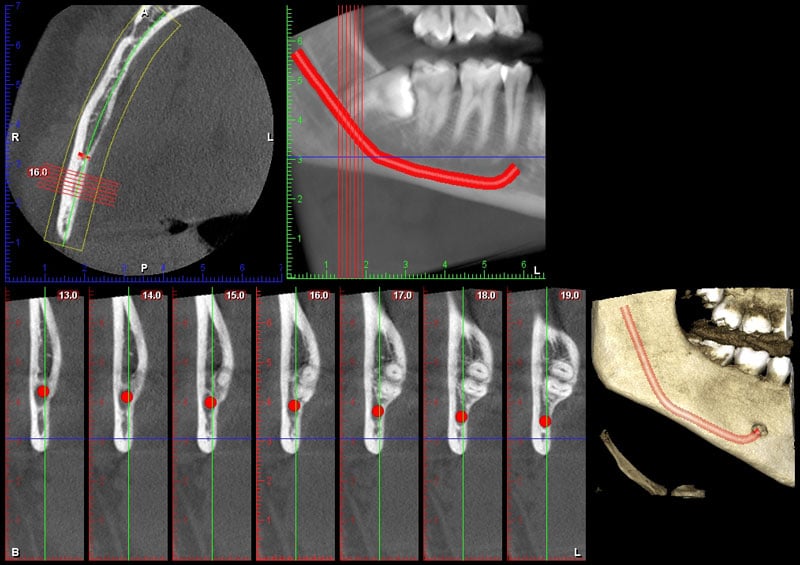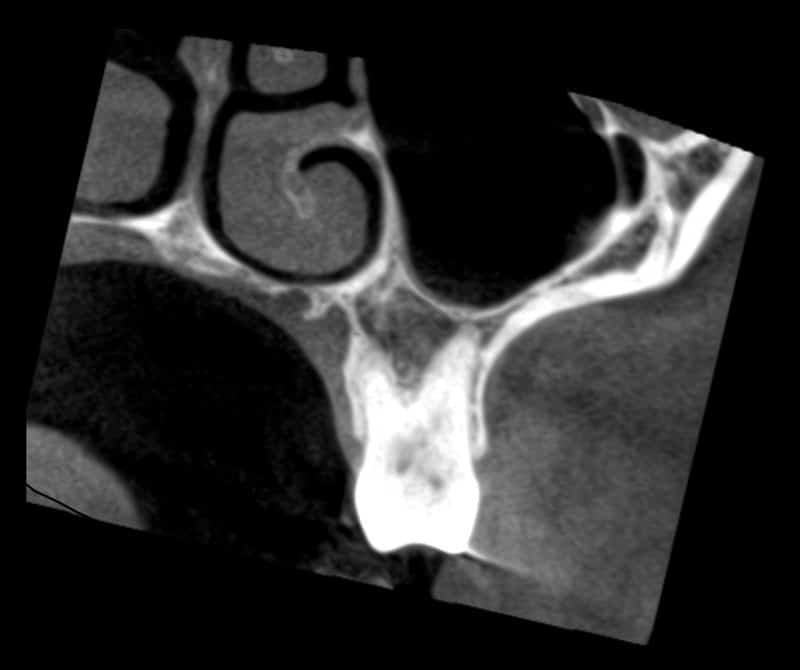 ---
Nobel BioCare CAD/CAM Dentistry 
Computer Aided Design (CAD) and Computer Aided Milling (CAM) offer advanced treatment options with less waiting time for a restoration.  Depending on the procedure(s) being performed, your dental restoration(s) may be able to be placed on the same day or next day instead of the usual wait of one to two weeks or more.  Using a special scanner, the office can take a digital impression without using traditional trays, improving patient comfort.  The restoration(s) is then designed using advanced computer 3D technology that can analyze the interaction of the new restoration with your other teeth.  A new crown can be milled out of a solid piece of tooth-colored composite material providing strength that may surpass that of many crowns produced in a dental lab.  Advancements in materials and technology have provided many options for great restorations that can both look great, provide superior strength compared to other restorations, and reduce the need for multiple visits to the office.
Dexis Platinum Sensor Digital X-rays 
Digital x-rays reduce the amount of radiation needed as compared to film x-rays.  The improved diagnostic capability of digital x-rays and the ability to view the x-rays on a computer screen allow the patient to better understand and follow treatment.  Digital x-rays are instant, so there is no longer a need to develop the film.  Digital x-rays save time and increase patient care.  It's also a very green technology.  By eliminating film, developer and chemical waste, digital x-rays are better for both the patient and the environment!
---
---