Frequently Asked Questions (FAQs)
---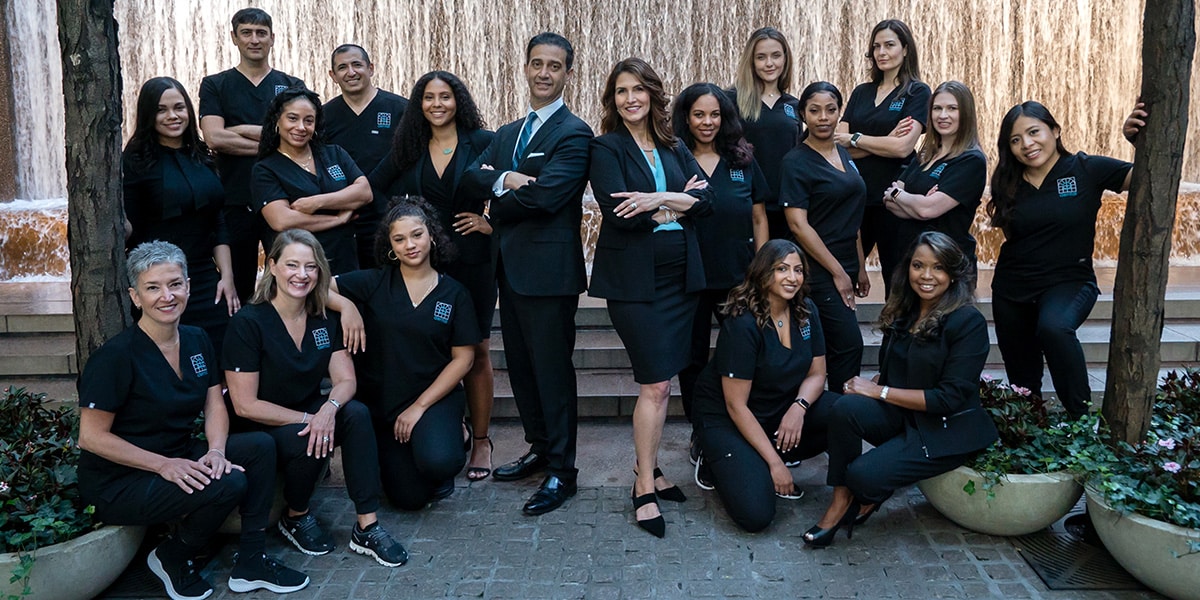 ---
May I bleach my teeth if I have crowns?

A: You may bleach your natural teeth, but crowns, laminates, and fillings will not bleach. The bleaching agents do not damage or affect your existing crowns, laminates, or fillings.

Will people notice that I have an implant when I smile?

A: If the treatment is rendered correctly, no one should be able to differentiate an implant from a natural tooth when you smile.

May I just put a plastic (composite) filling in a tooth that has a deep cavity?

A: Yes, you may. However, it will not be strong enough to withstand biting forces. We recommend ceramic inlays/onlays for these types of restorations since they are superior in strength, fit, and last considerably longer in comparison to the composite fillings.

What is an onlay?

A: An onlay is a restoration that covers one or multiple cusps (peaks) of a tooth. When the cusps are compromised due to a fracture or large existing filling, an onlay is necessary to cover and protect the cusps from fracture.

Will chewing and flossing be the same after getting a new restoration?

A: Yes, we make all of our restorations custom and you should be able to chew and floss normally.

What is the difference between an onlay and a regular filling?

A: An onlay covers the cusps (peaks) of a tooth and is usually made out of gold or a ceramic filling. This restoration is superior to a regular composite filling in strength, fit, and longer lasting than regular fillings.

May I go back to work after having implant surgery?

A: Most of the time, yes. We provide you medication, ice packs, and post-operative instructions that will allow you to return to work on the day of your surgery. If extensive dental work is performed, or you do a great deal of speaking at your office, we recommend scheduling your appointment with us in the afternoon and not returning to work until the next day.

Why are protective coatings on the back teeth necessary?

A: Our posterior (back) teeth all have pits and fissures. Over time, these pits and fissures accumulate food and debris which leads to cavities. We recommend coating the biting surfaces of these teeth with a composite resin material in order to protect and prevent food and debris from accumulating on the biting surface.

Does bleaching damage your teeth?

A: No. The bleaching agents (usually peroxides) only lighten the enamel (outer layer of the tooth) and do not erode or degrade the enamel. However, we only recommend bleaching agents for short term use. We do not advocate using hydrogen peroxide as a long term adjunct for dental care.

Why are my teeth sensitive to cold?

A: Cold sensitivity is usually due to exposed dentinal tubules on the root surfaces of your teeth. When the gingiva (gum) recedes, the dentin is exposed to the oral environment. The dentin has little tubules (pores) that lead to the nerve inside the tooth. Therefore, when you drink something cold, the temperature change is detected by the nerve inside the tooth. This is normal. To decrease the sensitivity, we may apply desensitizing agents or recommend a special desensitizing toothpaste. Sometimes the cold sensitivity is due to a high bite or a result of grinding your teeth. To address these issues, we will adjust your bite and/or recommend a nightguard.

Your practice is in the most competitive market in the world, New York City. What differentiates you from the other practices in Manhattan?

A: Though our facilities are spacious, we manage our practice as a boutique operation that emphasizes providing high quality care to our patients while prioritizing overall health. We offer a serene environment, away from the typical New York City hustle and bustle. Our 4300 square foot office is equipped with seven treatment rooms, a laboratory, a conference room, and two large surgical suites. We provide a multispecialty practice with a board-certified prosthodontist, a board-certified periodontist, and a dental laboratory all under one roof. We are cognizant of our patients' busy schedules, so by offering multidisciplinary care, in combination with digital dentistry and highly skilled technicians, we provide quality treatment in a reduced time period.

Drs. Giglio, you both take a lot of continuing education courses, and you're on the faculty at NYUCD, plus you speak at national/regional dental conferences. Can you speak a little bit about that?

A: Dr. Graz Giglio: My educational pursuits began immediately after completing my specialty training in prosthodontics with a concentration in implants and aesthetics. I am a Key Opinion Leader (KOL) for several companies, where I act as a consultant, and I present at various dental meetings in conjunction with these companies. I average approximately two lectures per month, from intimate groups to national organizations with thousands of people in the audience for corporate and dental meetings. These experiences, along with my dedication to teaching, allows me to stay up-to-date with emerging technologies.
A: Dr. Ana Giglio: As an educator and clinician, I pride myself on staying current with the newest technologies so that my patients can benefit from the most state-of-the-art, scientifically-based innovations. I have had the privilege of serving as an Adjunct Clinical Associate Professor in the Advanced Education Program in Periodontics and Implant Dentistry at NYUCD for 27 years. My participation at continuing education courses, presenting, and teaching enhances my knowledge of cutting-edge technology.

What are your thoughts on digital dentistry and its progression, and how are you using this technology to deliver a more pleasurable experience and better outcomes to patients?

A: Digital dentistry has been around for over twenty years and we integrated the technology into our office once we had solid, evidence-based results for lab scanners. At that time, we still had to make traditional impressions, which were very uncomfortable for patients. About five years ago, a company called 3Shape developed an intraoral camera that delivered accurate results for prosthodontics and aesthetic dentistry. Other companies got into the mix and multiple intraoral scanners are being used in the industry today. We still do lab scanning, but now we mostly skip the traditional impressions and use an intraoral scanner to take digital impressions. Now we can use CAD (computer-assisted design) and CAM (computer-assisted manufacturing) to design virtual teeth and then fabricate them with a milling machine or a 3D printer.
As a periodontist, the Cone Beam CT has had a significant impact in patient diagnosis and allows for highly accurate surgical treatment planning. Prior to the addition of the CBCT, a patient would present with pain and a conventional periapical radiograph might not detect the problem. The 3D technology provides more precise imaging of the dentition and bony housing, enabling us to more readily find the source of discomfort. In addition, by merging the CBCT with the TRIOS intraoral scan, we can precisely plan for implant placement and fabrication of a provisional restoration that is delivered at the time of surgery. In addition, the intraoral scanner allows us to scan patients so that we can monitor and compare gingival levels over time.

What do you want patients to know about yourself, your family, and your interests?

A: We met in dental school: Graz was a resident in prosthodontics and Ana was completing her dental degree. We married, completed our specialty residencies, and we both became board-certified in our respective specialties. We are the proud parents of three grown sons and are adapting well to being empty nesters. We enjoy traveling, photography, good food, great wine, and fitness training to counter the aforementioned food and wine.

New York City is ultra-competitive. Where do the majority of your patients come from?

A: Most of our patients are referrals from other doctors— general physicians, plastic surgeons, cardiologists, dermatologists, and other dental specialists—who value the emphasis that we place on dental health in consort with aesthetics. These referrals are responsible for about 70% of our patient population. The other 30% are referrals from our patients who are satisfied with our services. We stress to patients that their treatment is confidential. We have the utmost respect for HIPAA privacy laws, and we do not discuss patient therapies with anyone without the patient's permission. We are flattered that many of our patients, who are very happy with our services, are willing to independently post about their satisfaction on social media, resulting in new referrals. Approximately 30% of our patient population travel from outside the Greater New York area to our office. Many of these patients reside in Asia, Europe, Africa, and South America, and travel to receive treatment in our practice. Call Gdental at 212-486-6622 to schedule your first appointment.