Frequently Asked Questions (FAQs)
---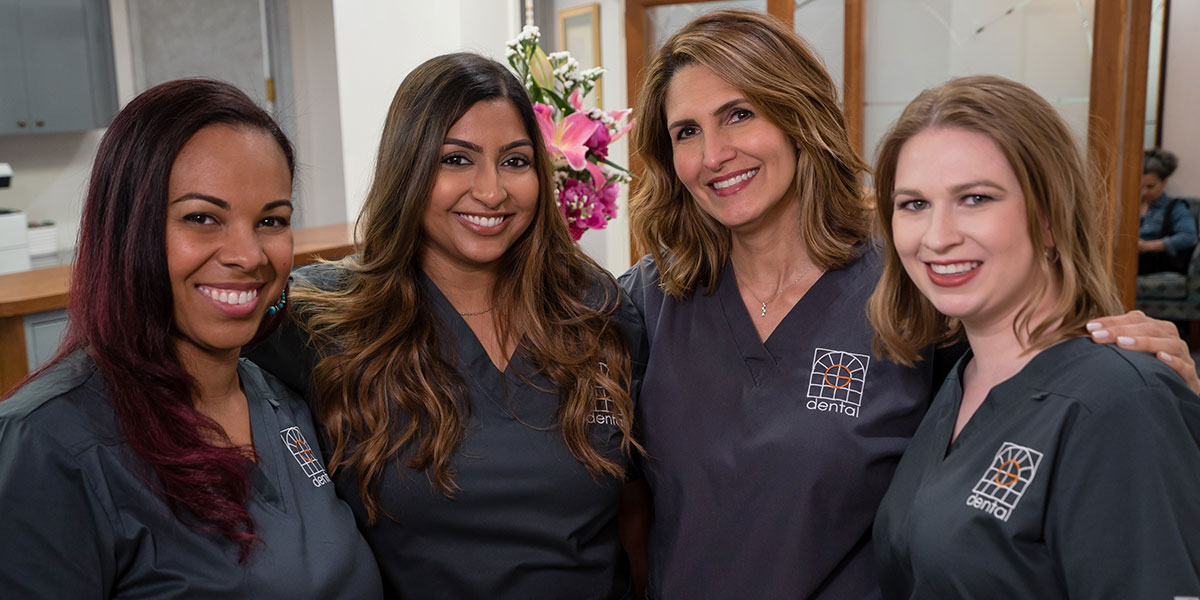 ---
May I bleach my teeth if I have crowns?

A: You may bleach your natural teeth, but crowns, laminates, and fillings will not bleach. The bleaching agents do not damage or affect your existing crowns, laminates, or fillings.

Will people notice that I have an implant when I smile?

A: If the treatment is rendered correctly, no one should be able to detect that you have an implant when you smile.

May I just put a plastic (composite) filling in a tooth that has a deep cavity?

A: Yes, you may. However, it will not be strong enough to withstand biting forces. We recommend ceramic inlays/onlays for these types of restorations since they are superior in strength, fit, and last considerably longer to the composite fillings.

What is an onlay?

A: An onlay is a restoration that covers one or multiple cusps (peaks) of a tooth. When the cusps are compromised due to a fracture or large existing filling, an onlay is necessary to cover and protect the cusps from fracture.

Will chewing and flossing be the same after getting a new restoration?

A: Yes, we make all of our restorations custom and you should be able to chew and floss normally.

What is the difference between an onlay and a regular filling?

A: An onlay covers the cusps (peaks) of a tooth and is usually made out of gold or a ceramic filling. This restoration is superior to a regular composite filling in strength, fit, and longer lasting than regular fillings.

May I go back to work after having implant surgery?

A: Most of the time, yes. We provide you medication, ice packs, and post-operative instructions that will allow you to return to work on the day of your surgery. If extensive dental work is performed, we recommend scheduling your appointment with us in the afternoon and not returning to work until the next day.

Why are protective coatings on the back teeth necessary?

A: Our posterior (back) teeth all have pits and fissures. Over time, these pits and fissures accumulate food and debris which lead to cavities. We recommend coating the biting surfaces of these teeth whith a composite resin material in order to protect and prevent food and debris from accumulating on the biting surface.

Does bleaching damage your teeth?

A: No. The bleaching agents (usually peroxides) only lighten the enamel (outer layer of the tooth) and do not erode or degrade the enamel. However, we only recommend bleaching agents for short term use. We do not advocate using hydrogen peroxide as a long term adjunct for dental care.

Why are my teeth sensitive to cold?

A: Cold sensitivity is usually due to exposed dentinal tubules on the root surfaces of your teeth. When the gingiva (gum) recedes, the dentil is exposed to the oral environment. The dentin has little tubules (pores) that lead to the nerve inside the tooth. Therefore, when you drink something cold, the temperature change is detected by the nerve inside the tooth. This is normal. To decrease the sensitivity, we may apply desensitizing agents or recommend a special desensitizing tooth paste. Sometimes the cold sensitivity is due to a high bite or a result of grinding your teeth. In order to reduce the sensitivity due to these issues, we will adjust your bite or recommend a nightguard.

Dr. Giglio, why did you choose dentistry and what is your background?

A: I got into dentistry because I wanted to help people when they were in pain. I experienced discomfort myself during orthodontic treatment as a child, and then I required two root canals. In college, I had already planned on going to dental school, and double majored in biomedical engineering and electrical engineering as a background. It was the 1980s, and I knew computer technology was right around the corner, therefore, I wanted to incorporate the medical aspect with the digital aspect of dentistry. After dental school, I decided to become a prosthodontist because it was easy for me to create whatever I needed to with my manual dexterity. At that point, I got into aesthetics and implant dentistry, which were the two up and coming fields in dentistry. I am very passionate about transforming lives by improving patients' smiles.

Your practice is in the most competitive market in the world, New York City. What differentiates you from the other practices in Manhattan?

A: We wanted to create a serene environment, away from the typical New York City hustle and bustle. Therefore, we built a 4300 square foot office with seven rooms, including a laboratory, a conference room, and two large surgical suites. Most offices in the city are considerably smaller. We also have a board-certified prosthodontist, a board-certified periodontist, and a dental lab all under one roof. Though our facilities are spacious, we manage our practice as a boutique operation that truly caters to demanding patients.
For example, if a patient needs to do business while in our office, they may go to our conference room to attend to their work while waiting for the laboratory to complete the dental prosthesis. We don't just leave our patients sitting around in the waiting room, missing out on work or business opportunities.

Dr. Giglio, you take a lot of continuing education courses, and you're on the faculty at NYU, plus you speak at national events. Can you speak a little bit about that?

A: It started right after I specialized in prosthodontics for implants and aesthetics. I'm the Director of Fixed Implant Dentistry at NYU in the Department of the Postgraduate Prosthodontics program. I also lecture for different companies on a consultant basis, and I get invited to national dental meetings. I average approximately two lectures per month, from small groups to national organizations with thousands of people in the room.

What are your thoughts on digital dentistry and its progression, and how are you using this technology to deliver a more pleasurable experience and better outcomes to patients?

A: Digital dentistry has been around for over fifteen years and we got involved when we had solid, evidence-based results for the first lab scanners. At that time, we still had to make traditional impressions, which were very uncomfortable for patients. About five years ago, a company called 3-Shape developed an intraoral camera that delivered accurate results for prosthodontics and aesthetic dentistry. Other companies got into the mix and multiple intraoral scanners are being used in the industry today. We still do lab scanning, but now we mostly skip the traditional impressions and use an intraoral scanner to take digital impressions. Now we can use CAD (computer-assisted design) and CAM (computer-assisted manufacturing) to design virtual teeth and then fabricate them with a milling machine or a 3-D printer.

What do you want patients to know about yourself, your family, and your interests?

A: My wife and I met in dental school. I was a resident in prosthodontics, and she was still completing her dental degree. We got married during my residency, and then she completed a residency in periodontics. We both became board-certified in our respective specialties, and started a family about five years after getting married. We have three grown sons. One is a software engineer for Microsoft and lives in Seattle, one is a mechanical engineering concentrator at Harvard University, and the third will be heading to Duke University to study mechanical engineering as well. All three boys played baseball. The oldest, Chris, was a pitcher at Princeton University during his college years. Our family loves traveling around the world together, and we all really enjoy photography.

New York City is ultra-competitive. Where do the majority of your patients come from?

A: Most of our patients are referrals from other doctors— general physicians, plastic surgeons, cardiologists, dermatologists, and other dental specialists—who are caring for patients from an aesthetic standpoint. They represent about 70% of our patients. The other 30% are referrals from patients who are satisfied with our services. This can be challenging, though, because a lot of patients don't want others to know they had major dental treatment in our office. We always stress to patients that we keep their treatment confidential. There are HIPAA privacy laws, and we do not discuss patient therapies with others. However, there are plenty of patients who advertise their work on the internet and say they are very happy with our services, which brings us additional new patients. Approximately 30% of our patient population travel from outside the Greater New York area to our office. Many of these patients reside in Asia, Europe, Africa, and South America, and travel extensively to receive treatment in our practice. Call Gdental at 212-486-6622 to schedule your first appointment.